Teams Who Play Together Stay Together: Why Activity Games Make for Ideal Corporate Team Building and How to Get It Right.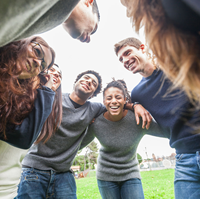 Building a constructive and collaborative working relationship within departmental teams can reap rewards for your business. Lines of communication within a team are made stronger by building and improving the social links within that group or organisation. Colleagues can become empowered, discover new skills and develop their roles as an outcome of team building activities. There are a huge variety of options out there though, so what is right for your business?  It is important to consider the size of your team and identify your ultimate aim: to inspire a sales force, to foster creativity, to strengthen lines of communication or simply to express appreciation?
Get Competitive
If your team building event involves multiple departments, you can strengthen the collaborative spirit of across the organisation by pitting them against each other in a competitive focused activity. Inflatable laser quest, or a go cart racing day is ideal to achieve this type of aim, with the scope of scale to accommodate not only department based teams, but entire businesses.
Get Physical
Using an inflatable army assault course as part of your team building event will really get your colleagues' heart rates up. This kind of physical activity is ideal for sales teams who thrive on enthusiasm and energy. Teams can support, assist and race each other and through this, become empowered and motivated.
Get Collaborative
Communication is a vital skill to be developed across teams in all industries. So when you're looking to reinforce this skill in your own company, a collaborative team based game such as human table football is ideal. Your teams are stationary, which means that communication is key to winning the event, and once the game starts competitive streaks are bound to emerge!
Get Co-ordinated
By choosing activities that are based on focus, concentration and coordination, teams that work on a creative basis can really benefit. Look at options such as our mobile rock climbing wall. Colleagues are able to both support one another and also develop a frame of mind that is progressive and innovative.
Get Targeted
For management teams, activities involving targets such as archery or clay pigeon shooting are ideal. The practice and focus of this type of pursuit offers an opportunity to share advice, skills and experience as well as collaborating to improve levels of achievement. These are flexible activities that can work alongside a larger scale event, and can accommodate groups of many sizes.
Get Everything
Because team building isn't just about one aspect of working together; it is, like any business, multi faceted. So it follows that your team building event should follow suit. Identify the key elements to your business or team and structure a day that covers all the bases.
Get Involved
Don't take it for granted that all of your team will want to throw themselves into the activity that you have chosen. This is where event staff who are not only confident and knowledgeable about the equipment itself, but also enthusiastic and engaged, make the real difference. Often, our experienced event crew find that once a reluctant attendee is encouraged to give an activity a chance, they don't look back.
The breadth of variety for a corporate team building event is huge. With so many different activities on offer, it is important to consider which is the best fit for your business or team. Subtle changes in  the focus of different activities can help them to develop specific skills and qualities. You know your colleagues best, but using our expert advice will help you to choose an activity, or combination of activities, that will really bring out the best in your staff.